Reduce the Monday morning "Rotten Egg Smell". Eliminate stagnant coolant during down times with an inexpensive and effective aerator.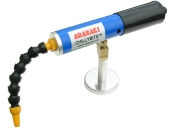 Produces and directs cold air at tooling bits. Eliminates mist cooling and heat related parts growth, extends tool life and accelerates machining time.
An inexpensive way to clean dirty machine sumps, tanks and parts washers. The air driven Chiperator™ quickly separates chips and swarf from liquids.
This self-cleaning, maintenance-free Coolant Cleaner removes ferrous fines from coolant with the use of permanent ceramic magnetic material or rare earth magnets.
This unit will extend coolant life, reduce disposal costs, eliminate down time, improve tool life and help prevent dermatitis.
EconoMixer™ Coolant Mixer
Automatically mixes liquid coolant concentrates with water and dispenses the diluted solution into any sump or container.
Continuously pumps contaminated fluid from the sump through a chip-blocking pre-filter to the inlet valve.  The Oil Boss keeps coolant free of oil and extends tool and coolant life.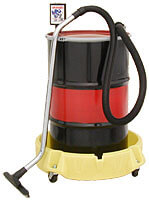 Dual-function wet vacuum that thoroughly suctions all types of wet industrial spills to prevent injury and damage. It can also be used to remove coolant and chips from machine sumps for optimal equipment operation.